Journey orchestration means distributing relevant journey insights to the right stakeholders in the organization.
What sounds simple is a challenge for CX teams. Some fail due to internal silo boundaries, others due to a limited tech stack. This is because this process is not implemented with system-based solutions, but with so-called flat tools (PowerPoint, Excel, common white boarding tools). Read how cxomni can help you automate your journey orchestration and make internal processes more efficient.
Let's start with an example from the everyday life of a CX team: New product features that are not accepted by customers or the poor usability of a touchpoint are typical examples that CX teams have to analyze by using a journey mapping methodology. Because the company management wants a pain point list that needs to be distributed to the responsible departments for optimization measures. What sounds simple is complex. Often, a touchpoint is part of several journeys. Or a journey has several touchpoints for which different frontline departments are responsible. If 200 pain points need to be structured in 50 different journeys, CX teams reach their limits because flat tools like Excel or PowerPoint make it difficult to structure and export information. Individual insights may then quickly be overseen, not to mention the time involved.
Many CX teams are using the wrong tools 
Pain points are then discussed in stakeholder meetings, but implementation is left to the individual frontline departments and is not followed up. This mostly affects corporate groups, since coordination is here more complex and responsibilities more differentiated – for example, due to different teams and regions. Medium-sized companies usually fail because of the limitations of the tools: PowerPoint, for example, does not allow a structured list export for further processing and distribution of insights. This means, insights do not end up in the ticketing system, but disappear in the department drawer.
The simplest way for the distribution of insights is an Excel list prepared according to pain points, journeys, insight types and departments. Once exported, this list is shared with the responsible stakeholder (e.g., product owner) so that he or she can manually transfer it to requirements management as tickets. However, for a sustainable effect and consistent implementation, a continuous process with control and tracking is required so that the business outcomes and impacts of individual measures can be evaluated.
Journey Orchestration Automation: The Tech Stack Matters
Automated distribution with a CX platform is more efficient. If the platform is connected via an API to a ticketing system, insights including status and processing updates can be distributed and controlled in both systems: If a pain point has the status "solved" because the improvement action has been implemented, the current status is automatically recorded in both systems. If, on the other hand, a task has been in progress for a long time or has not yet been touched by the frontline department, the CX team can follow up and request updates, which in turn can be made available to the company management.
In larger companies, this process usually involves a "human filter." This means, insights from the CX platform then first move to the backlog, where they are prioritized by the responsible stakeholders according to criteria such as feasibility or resource availability before they become a ticket. This makes synchronization easier, especially in larger organizations.
How does Journey Orchestration work with the right software?
CX platforms such as cxomni act as a journey repository that captures all customer journeys, touchpoints, personas, and customer feedback and makes them available at the push of a button. In such a CX tool, all insights are centrally controlled via the dashboard of the insights monitor and all relevant information of an item such as description, affected journeys or visuals can be presented in the detailed view via a double-click. Integrated functions such as a Difficulty-Impact Matrix support CX teams in prioritizing insights before distributing them. All insights can be automatically transferred to the ticketing system via API or shared with stakeholders via a PDF export or as a unique URL if an insight is deemed particularly relevant or needs to be discussed with the frontline department.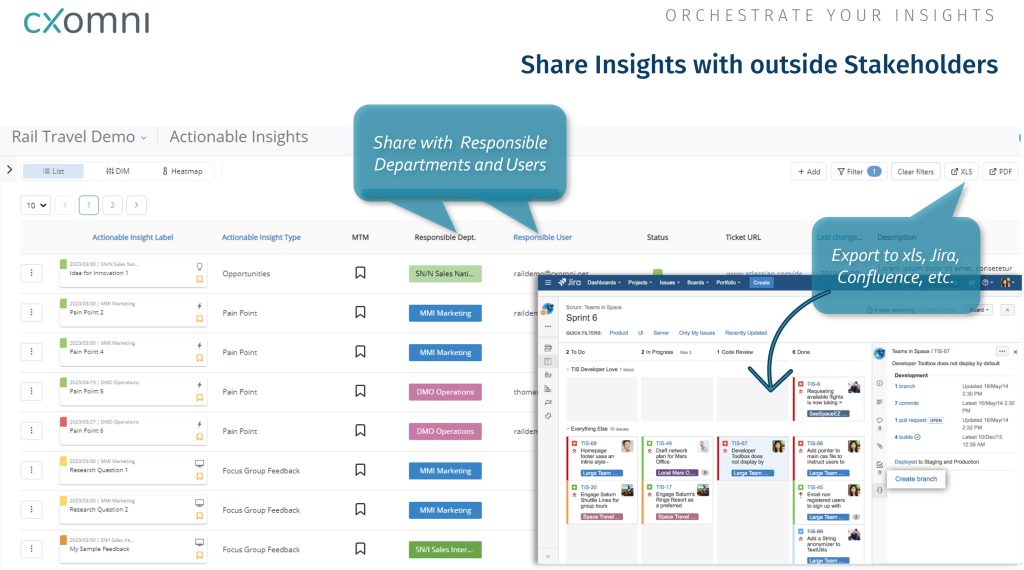 Insights orchestration in cxomni (© cxomni)
The integrated orchestration engine ensures the automated distribution of insights (orchestration). For this purpose, journey information (e.g. CSAT values, sentiment-analyzed feedbacks) from all touchpoints is summarized, created as a feed, and distributed to specific user groups (e.g. service team, marketing team). In this way, these teams only receive information that is relevant to them and gets the information from all the touchpoints for which it is responsible in an aggregated way.
Conclusion: What matters in Journey Orchestration
The goal of journey orchestration is to distribute journey insights to make them usable throughout the company. Responsibility and implementation for journey orchestration projects ideally lie with higher-level CX teams that are controlled by the board or management. In this function, they are responsible e.g. for the compilation of pain point lists and their distribution, take care of prioritization and establish the journey context for stakeholders in which a pain point has occurred. The task implementation then takes place in the frontline departments. In this way, areas of responsibility retain and journey insights can be used across internal silos. The decision on the right tech stack should also be the responsibility of the CX team. They are usually instructed from corporate management to work with IT and procurement to find the right software that can map the entire journey orchestration process. So smart internal processes and the right tech stack are the key to successful journey orchestration.
You will find further impulses for working with journey insights and comprehensive templates for building a Journey Management Framework in our Playbook.