What is a CDP? First of all, the abbreviation stands for "Customer Data Platform". Put simply, a CDP is a pre-built software system that collects, organizes and centralizes customer data to create comprehensive customer profiles. 360-degree customer profiles have long been coveted by marketers looking to create hyper-personalized customer experiences. CDPs are the latest solution on the market that promise to finally make this a reality.
But does the current hype around customer data platforms match reality? Let's dive into the topic a bit!
Complement, not compete: CDP and CRM
Although they are often compared to CRM (Customer Relationship Management) and DMP (Data Management Platform) systems, CDPs are something different.
A CDP collects significantly more types of data (behavioral, transactional, structured and unstructured) and adds value throughout the customer lifecycle – not just at one stage.
Think of this application as a "cleaner" for your customer data: it collects everything that exists, removes unnecessary clutter, and organizes the information in a way that actually makes sense for your business.
This may sound simple, but anyone who has ever worked in a large corporation with multiple departments that operate independently can attest that this task is anything but simple to accomplish. And in doing so, it's obvious that intelligently aggregating customer data has a number of business benefits.
Should a CDP replace your existing data management systems? Not necessarily.
Although there may be some overlap in functionality with your CRM or DMP system, an effective CDP will work with your existing customer data management solutions in a mutually beneficial integration – depending on how robust your CRM system is.
That's because the CDP pulls data from your CRM, DMP, etc. and uses it to create a more complete customer profile. And your other systems, in turn, are able to access the customer insights provided by the CDP in real time.
Analyze the impact of your customer interactions across all touchpoints

Customer Journey Analytics for CX Teams
What does a CDP do? Functions and advantages
?
A Customer Data Platform offers three major benefits:
Complete customer profiles
Unification of separate data silos
Building customer trust
Let's look at each of these benefits in a little more detail to get a more complete overview.
How a CDP can help build complete customer profiles
The main purpose of a Customer Data Platform is to create a dynamic, comprehensive profile of all your customers. This is done by collecting, cleansing and organizing data from a wide variety of systems and touchpoints (transaction history, customer service interactions, IoT data from their smart devices) and then combining it into a single view.
Types of data collected by a CDP
Personal data (e.g., name, contact information, demographics, job title, etc.)
Engagement data (e.g., website visits, social media interactions, email open rates, customer service interactions, paid ad conversions, etc.)
Behavioral data (e.g., transaction/subscription information, purchase details, connected device usage, loyalty program information, shopping cart abandonment data, etc.)
Attitudinal data (e.g., customer feedback, perceived sentiments and motivations, etc.)
Not only do you get a more robust customer profile because CDPs automatically retrieve this data, but this profile also evolves in real time with the customer.
This single, dynamic, real-time view opens the door to much more impactful, personalized customer experiences that can drive business. According to a report from 451 Research, in 2019, personalized offers drove $87.5 billion in global revenue from purchases that consumers would not have made otherwise. And considering that 72% of consumers say they now only respond to personalized marketing, tapping into these deeper insights can really impact your revenue.
Be sincere: Build trust and loyalty by respecting consumers' wishes when it comes to their data.
In our data-driven world, companies need to ensure they treat their customers' data with respect if they want to gain and retain their trust. This means they must adhere to strict data protection regulations and respect consumers' privacy wishes.
By centralizing customer data in a single hub, including consent and privacy data, the Customer Data Platform makes it easier for companies to ensure they are working with the most complete information and up-to-date preferences of their customers. This helps reduce compliance risk and improve the overall customer experience.
In fact, according to PwC, 71% of consumers would stop doing business with a company if it shared their sensitive data without consent. CDPs don't just make it easier for you to gain valuable insights through customer data. They also make it easier to protect that data. They help you understand your customers' privacy preferences and, by aggregating all their information into one profile, make it easier to enforce those preferences everywhere.
Business evolves: CDPs will endure in the future 
The survival of businesses in the future depends on one critical factor: how customer data is managed and are companies using that personal information for good.
A CDP can help companies understand what their customers want, simplifying the entire buying process. As more companies take advantage of unified, centralized data and real-time customer profiles, CDP adoption will continue to grow. As a business leader, are you ready for what is inevitably coming?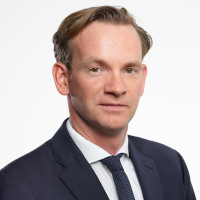 Kai Stübane joined SAP in early 2020 as Head of Sales for SAP Customer Experience (CX) in Central and Eastern Europe (MEE). From 2011 to mid-2017, he was responsible for sales in the German market in various positions at SAP. He then took over the sales of various strategic cloud solutions in the MEE region. He was born in Berlin in 1980 and studied business administration at the Berlin School of Economics. He then worked for several years as an auditor and consultant at PricewaterhouseCoopers AG.