Knowledge of the customer journey actually experienced by the user is becoming increasingly important.
It is a standard enterprise-wide framework for CX teams and stakeholders to visualize and analyze touchpoints, personas, and customer emotions. Demand for the appropriate journey mapping tools has grown steadily in recent years. According to The Forrester Wave™: Journey Mapping Platforms, Q2 2022, key drivers are "not only the pandemic, but also the growing need for collaboration tools for hybrid and remote work environments." In our opinion, reason enough for analysts to take a closer look at the market and its most significant vendors.
What role does the Forrester Wave play for CX decision makers?
For more than 35 years, Forrester has been an independent market research firm providing executives in the global consumer products and technology sectors with an objective view of current developments and upcoming trends. In "The Forrester Wave™: Journey Mapping Platforms, Q2 2022," experts identify, research, analyze, and rank the 12 most significant journey mapping vendors based on 25 criteria. The criteria evaluate, for example, the current offering such as journey visualization and journey design, but also the strategy such as planned product extensions, the sales model or performance. In this way, the Forrester report provides an objective overview of how the individual providers perform. The aim is to help companies select the right solution for their applications.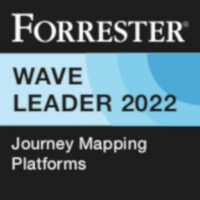 "cxomni is a good fit for firms that want to choose à la carte between the different modules (journey analytics, sentiment analysis, journey mapping, and actions manager) and are ready for mapping, analytics, and some orchestration use cases."

The Forrester Wave™: Journey Mapping Platforms, Q2 2022
Why is cxomni ranked as a leader by Forrester?
In each Forrester Wave™, the providers are classified as Leaders, Strong Performers, Contenders and Challengers, depending on how they have performed in the individual criteria. As a German startup, cxomni has made it into the Leader category this time with its Customer Journey Management solution. The software received the highest possible score in 11 criteria. In addition, the solution was rated in the category "Current Offer", with the highest score for journey visualization.
Further details can be found in the entire report
cxomni ist ein Leader unter den Journey-Mapping-Plattformen!

The Forrester Wave™: Journey Mapping Platforms, Q2 2022