Customer experience as a competitive advantage in the insurance market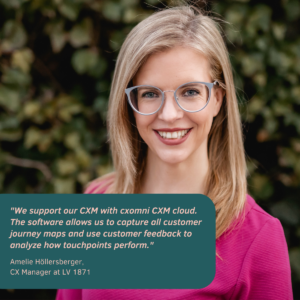 In this case study, you'll find valuable best practices for CX management with customer journey mapping software. You will also learn how the life insurance company of 1871 a. G. München (LV 1871) integrates customer experience into its corporate strategy with its internal CX organization.

LV 1871 was founded 150 years ago and its core business is innovative occupational disability insurance. In addition, the company and its approximately 450 employees specialize in investment and pension solutions. The company leads by example and so LV 1871 puts the customer at the center. Therefore, the insurer relies on an omni-channel environment where the customer receives the same information and positive experiences at all touchpoints.
Customer experiences guarantee success
LV 1871 offers customers the reliability they expect from an insurer. The topic of CX is therefore lived down from the management and implemented throughout the company. For this purpose, the insurance company has an internal CX organization with the CXM Champions. This team documents the customer journeys with cxomni and visualizes and analyzes all customer actions along a customer journey. In addition to journey mapping, the team works with quantitative surveys. They provide insights into customer expectations and requirements. Thanks to the software support, LV 1871 maps complex sub-journeys with customer emotions, responsible departments and user feedback in a multi-dimensional and database-based manner.
The holistic approach of internal organization and software support pays off. Customer journey mapping has changed that, and employees consistently think from the customer's point of view. In addition, representatives from each department are brought in and customer journeys are viewed holistically. In this way, every department at LV 1871 contributes its perspective and experience, and processes are streamlined if the customer does not need a feature.
Further topics:
How does customer journey mapping work with software support?
How does software support CX management with multiple teams?
What added value does customer feedback provide for CX management?
How is CX management set up across the company??
You want to know more? Then download your free copy now. 
If the contact form does not load, please go to the cookie settings and accept the use of external content!